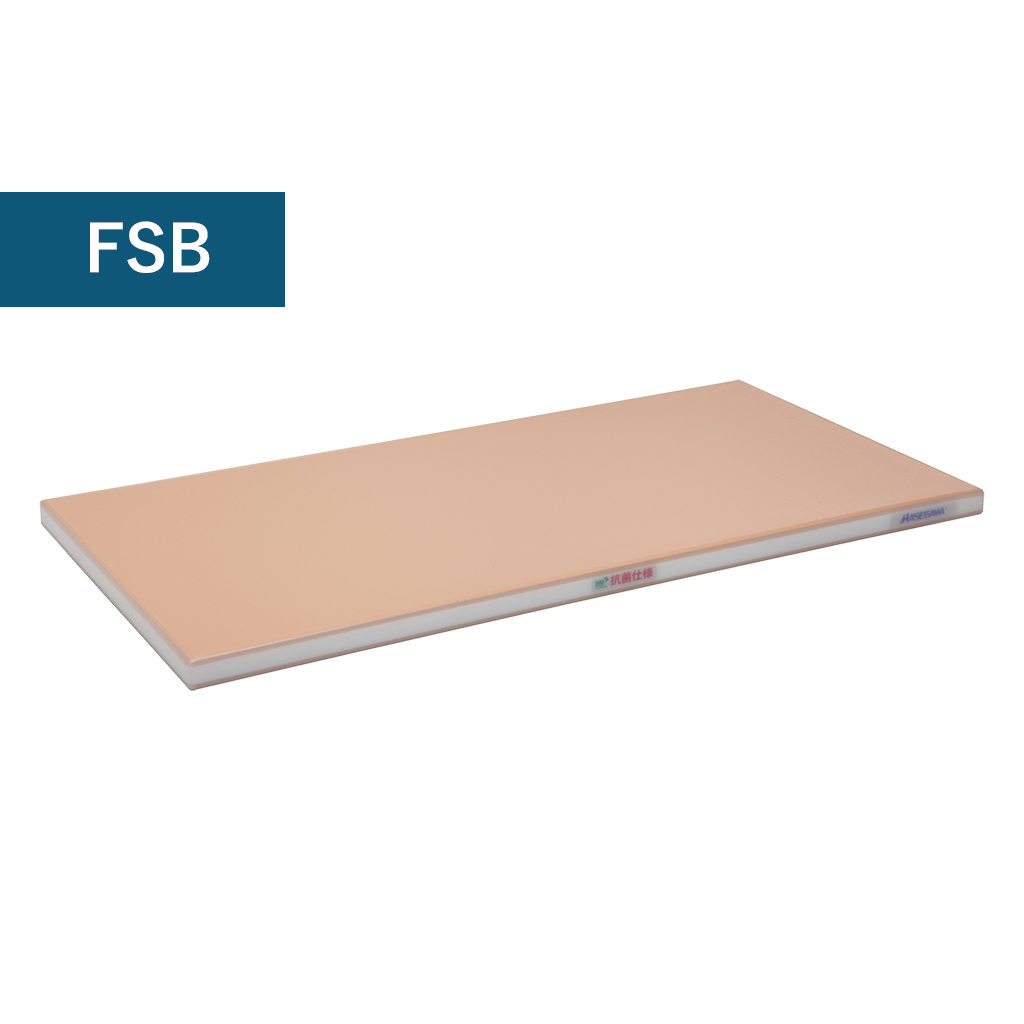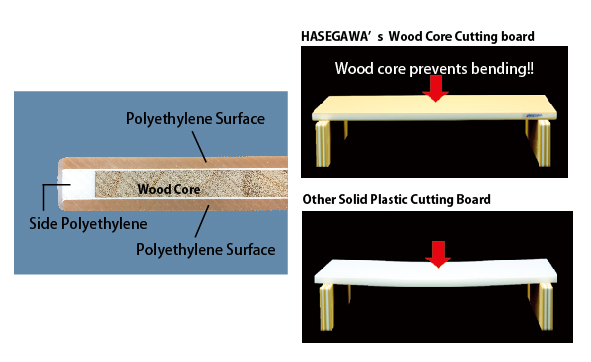 FSB Series
The PE (Polyethylene) Cutting Board - Brown, takes on your general tasks and will resist staining and deep gouging from rougher work better, compared to our Soft Cutting Board. The wood core structure boosts benefits below.
Light Weight
The wood core makes it 30-50% lighter than other solid plastic cutting boards. Handling the cutting boards becomes much easier, leading to better hygiene and maintenance. Also, the risk of injury is lower if you drop it.
Rigidity
It does not easily warp or bend under long-term use or high-temp washing. It is always stable and dish-washer safe.
Harder Surface
This cutting board comes with a harder surface (polyethylene) than our Soft Cutting Board. While the latter is recommended for delicate cutting (sushi, sashimi) in mind, the former takes on your general tasks like vegetables, meat and fish (except for chopping hard).
Concerns about the wood core?
Our wood core is sterilized and covered with thick plastic layers fully and completely. Therefore, the wood won't be exposed if it is handled correctly.
Pro-PE
Model Name
Thickness
mm (inch)
Size
mm (inch)
Weight
kg (lbs)
Heat-Proof
& Color
FSB20 - 5025
20   ( 0.8 )
500 x 250   ( 19.7 x 9.8 )
1.8   ( 4.0 )
90 C  (194 F)

Brown

FSB20 - 6030
600 x 300   ( 23.6 x 11.8 )
2.4   ( 5.3 )
FSB25 - 8035
25   ( 1.0 )
800 x 350   ( 3.15 x 13.8 )
4.3   ( 9.5 )
FSB25 - 9040
900 x 400   ( 35.4 x 15.7 )
5.5   ( 12.1 )
FSB30 - 10040
30   ( 1.2 )
1,000 x 400   ( 39.4 x 15.7 )
6.8   ( 15.0 )
FSB30 - 12045
1,200 x 450   ( 47.2 x 17.7 )
9.2   ( 20.3 )