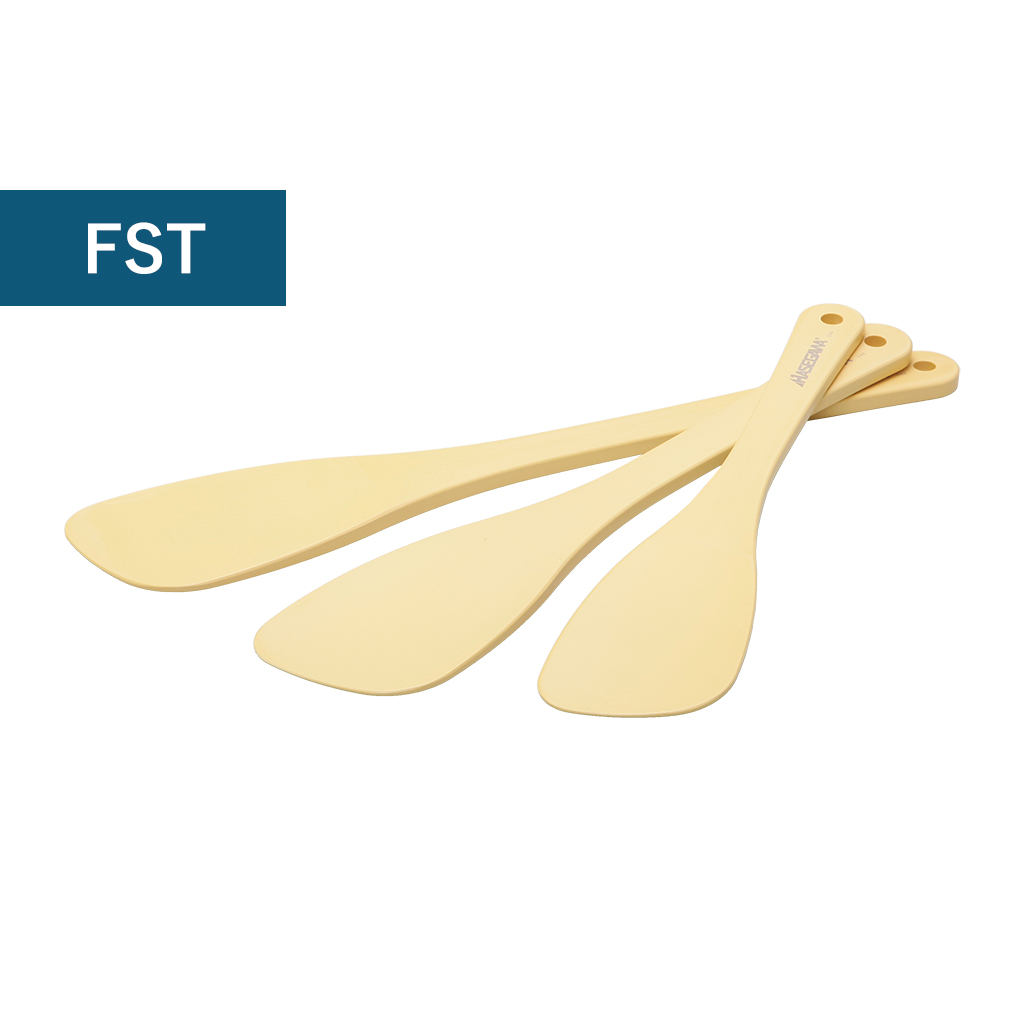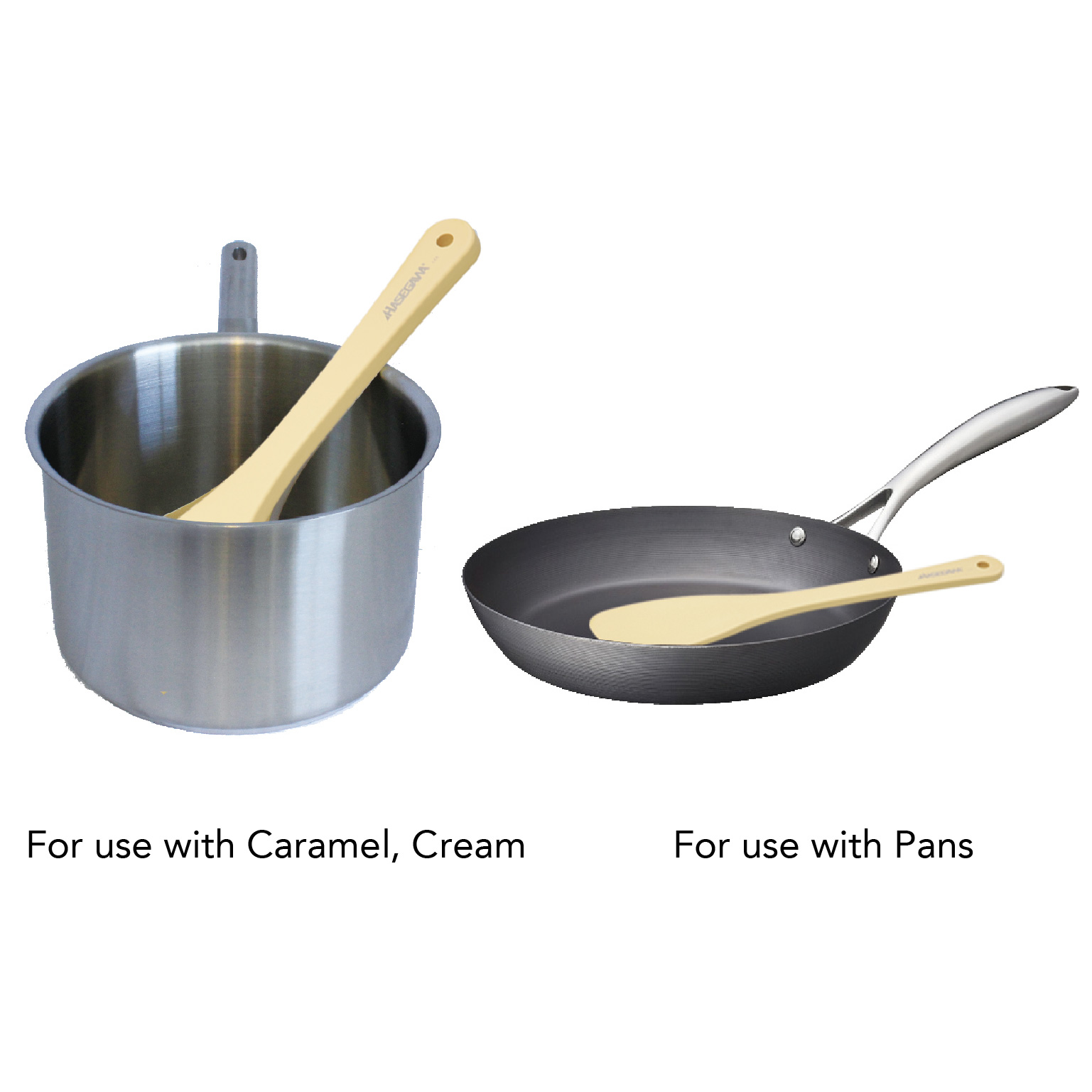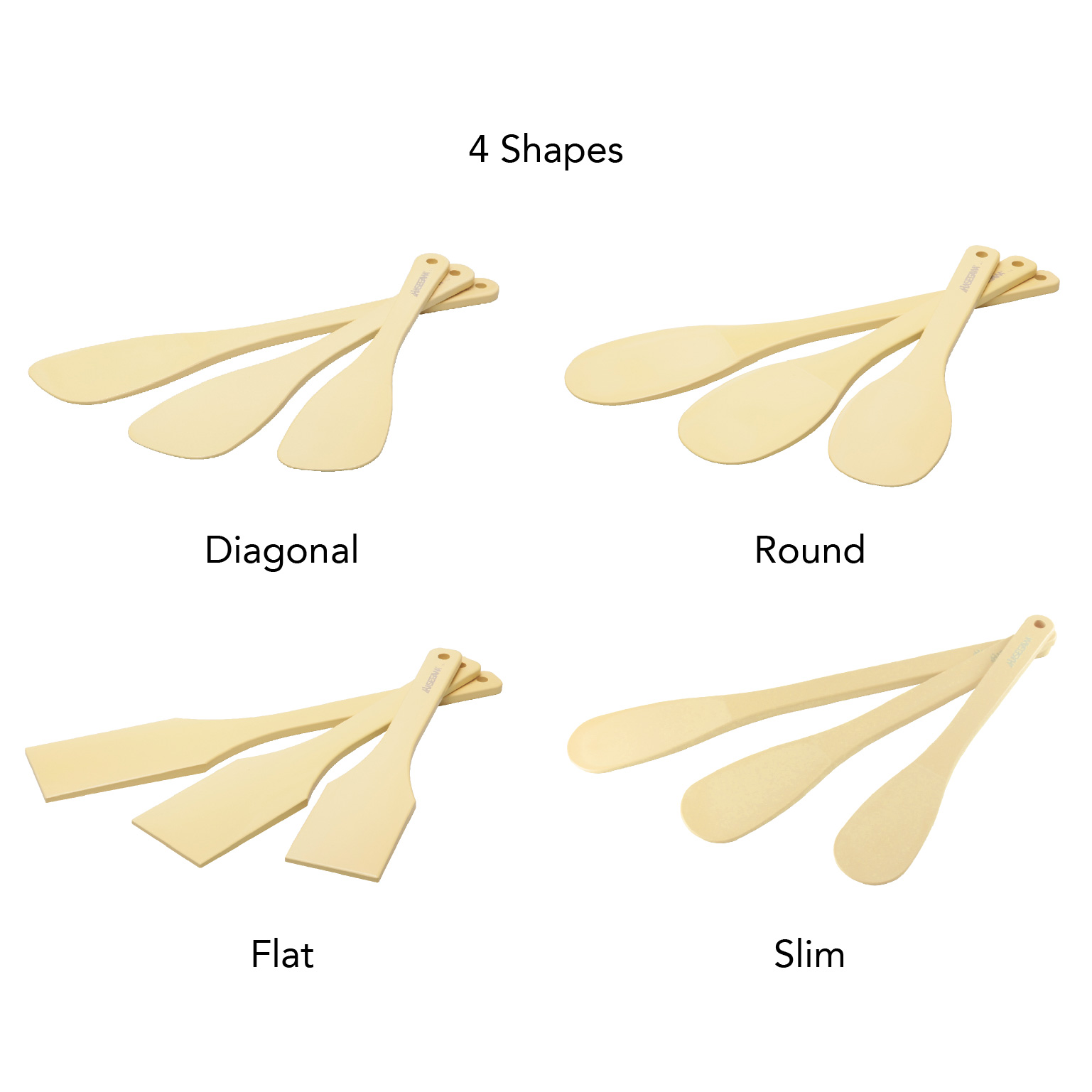 FST Series
Hasegawa turner series of spatula is an extremely safe and secure product made from high heat-resistant plastic. Compared with wooden ones, it is very hygienic, with no worry of corrosion and contamination from wood chips. In addition, it is also highly safe for use as it will not scratch the bottoms of pots and cause metal burrs like those metal ones.
- It comes with high-heat resistant specifications (230 C / 446 F)
- It is made from material that hardly breaks or corrodes, hence no risk of chipping.
- Cleaning is easier and more time efficient. Of course, dishwasher and bleach safe.
Turners
Shape
Model Name
Length
mm (inch)
Width
mm (inch)
Thickness
mm (inch)
Weight
g (lbs)
Heat-Proof & Color
Diagonal
FSTD - 30
300   ( 11.8 )
68   ( 2.7 )
8.0   ( 0.31 )
73   ( 0.16 )
230 C   ( 446 F )

Beige

FSTD - 35
350   ( 13.8 )
74   ( 2.9 )
8.5   ( 0.33 )
95   ( 0.21 )
FSTD - 40
400   ( 15.7 )
79   ( 3.1 )
9.0   ( 0.35 )
117   ( 0.26 )
Round
FSTR - 30
300   ( 11.8 )
75   ( 2.9 )
8.0   ( 0.31 )
82   ( 0.18 )
FSTR - 35
350   ( 13.8 )
80   ( 3.1 )
8.5   ( 0.33 )
104   ( 0.23 )
FSTR - 40
400   ( 15.7 )
85   ( 3.3 )
9.0   ( 0.35 )
126   ( 0.28 )
Flat
FSTF - 30
300   ( 11.8 )
65   ( 2.6 )
8.0   ( 0.31 )
83   ( 0.18 )
FSTF - 35
350   ( 13.8 )
70   ( 2.8 )
8.5   ( 0.33 )
112   ( 0.24 )
FSTF - 40
400   ( 15.7 )
75   ( 3.0 )
9.0   ( 0.35 )
140   ( 0.31 )
Slim
FSTS - 30
300   ( 11.8 )
52   ( 2.0 )
8.0   ( 0.31 )
61   ( 0.13 )
FSTS - 35
350   ( 13.8 )
56   ( 2.2 )
8.5   ( 0.33 )
82   ( 0.18 )
FSTS - 40
400   ( 15.7 )
60   ( 2.4 )
9.0   ( 0.35 )
103   ( 0.23 )
Comparison of the spatulas
Model Name
Length
(mm)
Weight
(g)
Heat Proof
Use
Turners
(FST)
300 - 400
61 - 117
230 C / 446 F
Pans, small pods
Mixing Spatula
(FSO)
500 - 1200
300 - 1300
130 C / 260 F
Medium to large pods
Stirrer
(FXO)
900 - 1200
900 - 1800
180 C / 356 F
Heavy use with large pods